COVID-19 has changed a lot of things. All around the world Governments are restricting citizens movements to combat the spread of COVID-19 the deadly new Coronavirus. In Ireland the Government has restricted non-essential travel to a 2km zone around your place of residence. It turns out that's an interesting choice, why so? Well we need to bring two things (circumference and area) together to find our answer. And then there's a nice surprise at the end (unless you figure it out before you get there).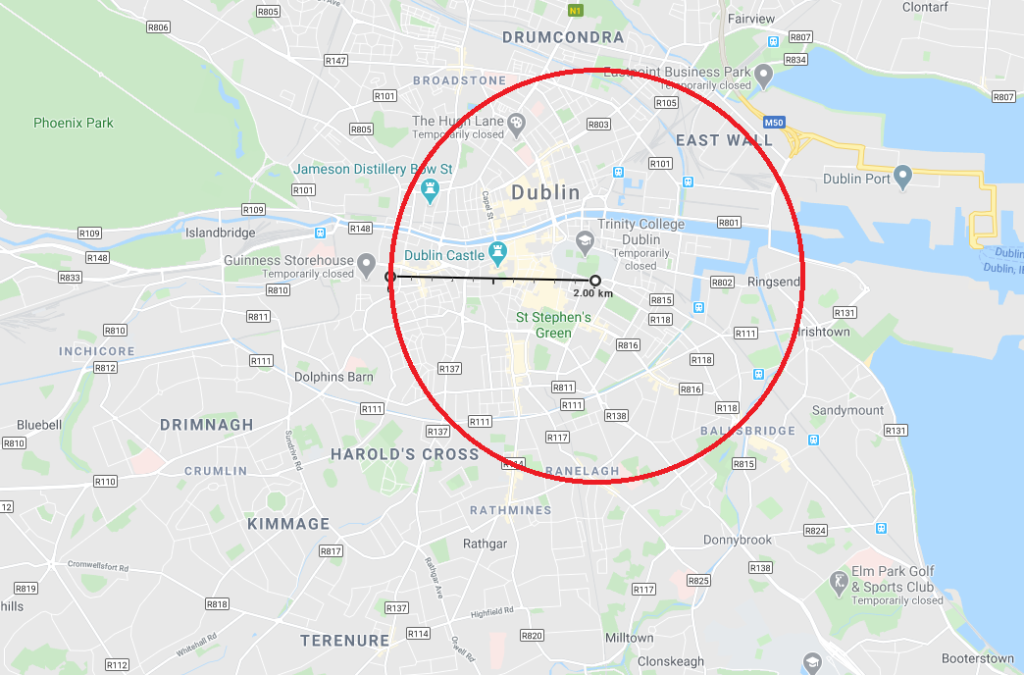 Circumference is king (Covid-19 is not)
Being confined to 2km can seem restrictive, but if you look at the image above it isn't just 2km. So how far can you walk while keeping within the 2km limit? How much space is that? Think of your residence as the center of a circle with a radius of 2km, and you can go anywhere within that circle. The length of the red circle (circumference) above is given by twice the radius times Pi. What? Well let's do it on the blackboard.
Blackboard #1
\( circumference = 2 * radius * \pi \)
We know the radius is 2km – as set by the Government:
\( circumference = 2 * 2 * \pi \)
\( circumference = 4 \pi \)
We know that \(\pi\) = 3.14
\( circumference = 4 * 3.14 = 12.6 km \)
So even with a mere 2km you can walk around a 12.6km circumference. And remember you have to walk 2km to get from the center (your residence) to the edge of the circle, and then another 2km to get back to the center afterwards. That gives a total of 16.6km, a lot more than a 2km limit might at first suggest.
Continue reading

"Covid-19. Why Irelands 2km isolation zone is interesting."