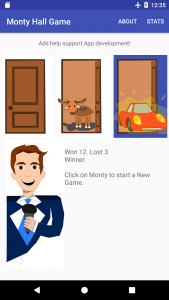 The Monty Hall Problem is an interesting Maths Puzzle – with a hotly disputed answer. Monty Hall is a well known American TV Show presenter, and this particular maths puzzle gained some notoriety on his TV Show – hence the name "Monty Hall Problem". The puzzle is quite simple to understand, but as is so often the case it is a little more tricky (and fun) to figure out the answer.
World famous mathematicians have gone to their grave disputing the answer. But I'll explain it in easy to understand language, and demonstrate a proof using a computer simulation I wrote which played no less than 70 million games. The source code for the simulation is available on GitHub so you can review it yourself 🙂
Get the free Monty Hall Game on Google Play.
Show Me The Monty Hall Problem Puzzle!
Monty shows you 3 doors which are closed. You are told that behind one of the doors is a car, behind the other 2 doors lies a Goat. If you choose the correct door you win the car. The doors are labelled 1, 2, and 3. Let's say you choose Door 1. In an unexpected twist Monty opens say Door 3 – behind which stands a goat! Monty then asks you "Do you want to stick with Door 1, or do you want to choose Door 2 instead?".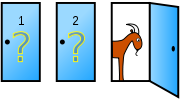 So do you stick or twist? You can stick with Door 1 or try your luck with Door 2. Monty is waiting. Your heart is racing. The crowd are shouting in equal measure "Door 1" and "Door 2", some jokers are even shouting "Door 3" ]:> 😀
Show Me The Monty Hall Problem Answer.
Not so fast. The fun is figuring out the correct answer – if there is a correct answer. What I'm going to do is put forward an answer and explanation, then I'll write a software program to simulate this scenario 70,000,000 (70 million) times and see if it agrees with my proposed answer. Is it better to stick or to twist – or does it make any difference? I'll share the results (and the code) of this simulation with you. In the meantime, you can try to solve the puzzle by yourself. But before that, I'll propose an answer – spoiler alert – don't read the next paragraph if you don't want to see the proposed answer.
The Monty Hall Problem Answer (SPOILER ALERT)
Ok then, you've racked your brains and thought through all sorts of statistical slight-of-hand and complex combinations and permutations and convinced yourself you have the correct answer. Stick or twist? Well , it turns out you should have …  Continue reading "Monty Hall Problem – Can You Solve This Maths Puzzle?"