New Tab → Customisable New Tab 🙂
Take control of your web browsing experience with this customisable New Tab Custom Colour Blank Page Chrome Extension. It will allow you to pick a colour for your New Tabs in Chrome, because you can choose from a selection of popular colours (Black, White, Incognito, InPrivate, Red, Yellow, Blue, etc.) or similarly choose from a palette of 256 colours to suit your personal mood and taste. This will replace the default New Tab in Chrome which consists of 2554 lines of HTML and scripts, with a quick loading 10 lines of HTML. Gone will be the Search bar and the 8 Most Recently visited websites.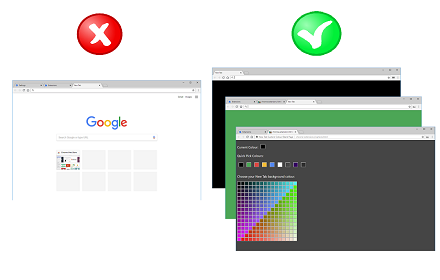 If you already installed my simpler "New Tab Blank Black Page" or read about it in the blog Hacking Google Chrome – Custom Chrome New Tab Extension  then you may also like the extra features this new Extension offers. Or if you are happy with just Black then that simpler Extension is perfect for you.
Another advantage to using this New Tab extension is that you can set the Start Page in Chrome to open your New Tab page. So Chrome will launch even quicker, and it might avoid some awkward moments. Like when you open Chrome or a New Tab and your boss sees a list of recruitment websites in your Most Visited Sites. Or your partner sees you've been on dating websites :p . Or most frightening is if your nerd friends see you've visited uncool-tech sites <_< , now you can impress them with your customised New Tab. Of course a true nerd will write their own, hey wait a second!
How do I get the Extension?
Open Chrome and simply go to the New Tab Custom Colour Blank Page ( ← or click that link) in the Chrome Webstore and click the "Add to Chrome" button. That's it! You will see the Extension icon appear to the right of the Chrome address bar. You can configure the extension by clicking the icon.
Enjoy using the extensions and other apps, feel free to rate them and leave a comment, feedback or suggestion.